Red Lobster Crab Alfredo has been a long-time favorite recipe at the restaurant. You can recreate this delicious seafood pasta dish yourself with this easy copycat recipe.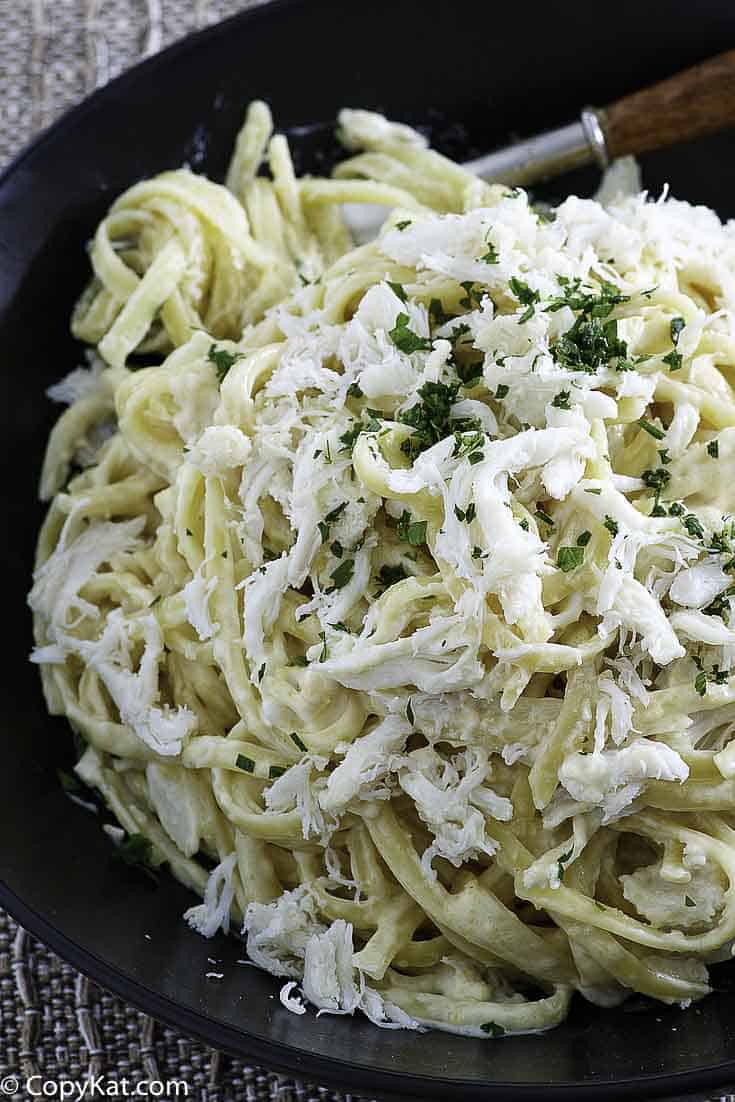 The Best Crab Alfredo
Red Lobster is known for many menu items that everyone loves. But the one that stands out from the rest is the crab alfredo. The sauce is thicky and creamy and the crab is always cooked to perfection. If you are a pasta fan, this dish is a must!
I'm such a huge fan of this dish that I made my own copycat version so I can eat it at home anytime I want. It tastes just like the real thing.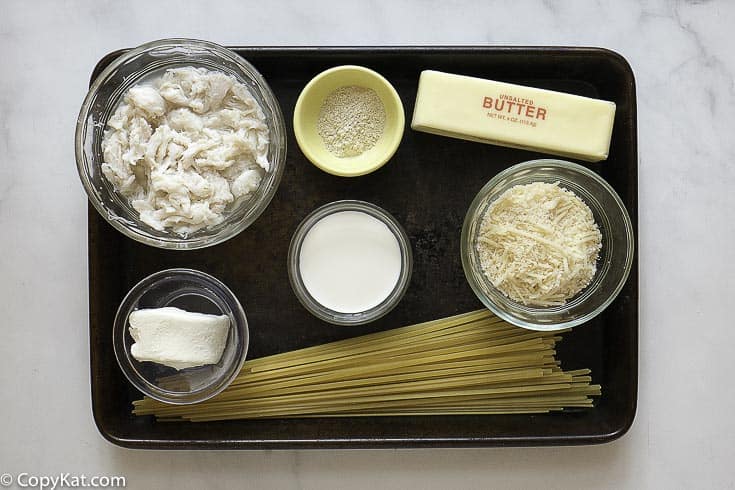 What's in red lobster crab alfredo
Here are the ingredients I used. The entire recipe is in the printable recipe card at the bottom of this post.
Half and Half Cream
Unsalted Butter
Cream Cheese
Shredded Parmesan Cheese
Garlic Powder
Crab Meat
Linguini Pasta
Crab linguini alfredo tips
This is probably one of the easiest meals I have made lately. You shouldn't have any problems. But here are a few tips that will help you out.
Best Type of Crab to Use
Fresh crab meat makes the perfect addition to my alfredo sauce. I always recommend using the freshest ingredients that you can because they have the best taste. You can use crab legs and you don't have to buy the expensive Alaska King Crab legs.
But you can also use canned crab meat too. If you are going to use canned crab meat, I suggest using lump and backfin meat. The claw meat comes out super shredded and in tinier pieces which can get lost in the sauce and the noodles.
You can also choose to use imitation crab meat.
Is imitation crab meat already cooked? Yes, imitation crab meat is normally pre-cooked. But always check the packaging just in case.
How do you cook packaged crab meat?
Cooking packaged crab meat is super easy. Just heat up some butter in a pan and saute the meat for about 5 minutes. It will be ready to add to your sauce and noodles.
How to reheat alfredo sauce
While this dish is a very easy and quick dish to prepare, I will say you should only make the amount of the Red Lobster Crab Alfredo that you will need to eat in one sitting.
Typically Alfredo sauce and pasta do not reheat well after they have been combined. If you do need to save some for later, I would divide up the sauce and the pasta. Often the pasta will soak up the sauce once it is stored. I do not like the result of reheated pasta.
Did you love the Red Lobster Crab Alfredo? Try more Red Lobster copycat recipes.
There are lots of copycat recipes from Red Lobster you might like to try. Here are a few Red Lobster menu items you can at home.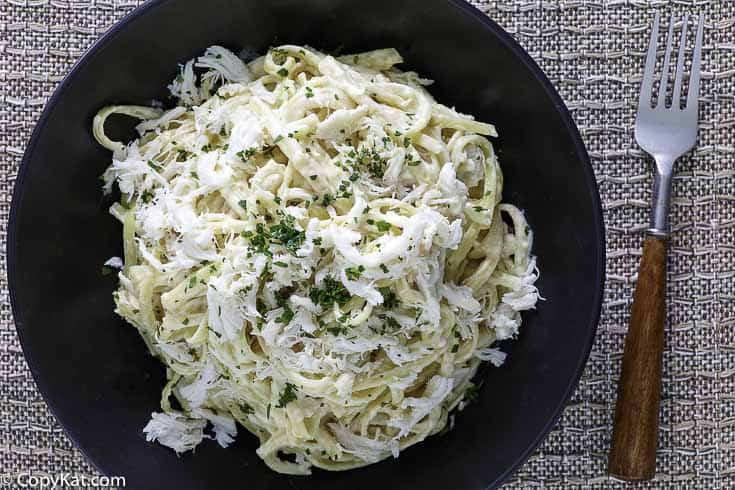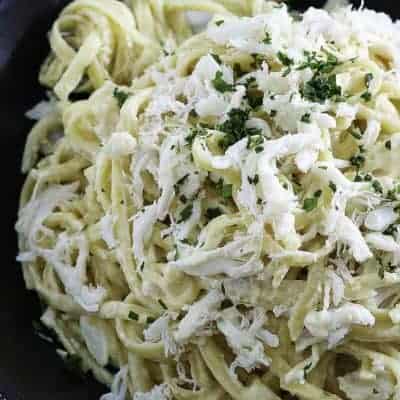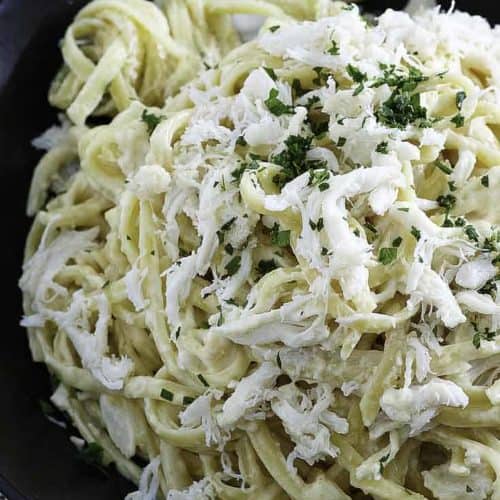 Red Lobster Crab Alfredo
Craving a comforting seafood pasta dish for dinner? Make this quick and easy Red Lobster Crab Linguini Alfredo copycat recipe! Super creamy and delicious.
Print Pin Rate Add to Collection Go to Collections
Prep Time: 10 minutes
Cook Time: 35 minutes
Total Time: 45 minutes
Servings: 6
Calories: 617kcal
Ingredients
1

pint

half and half

4

ounces

unsalted butter

2

tablespoons

cream cheese

3/4

cup

Parmesan cheese

shredded

1

teaspoon

garlic powder

8

ounces

crab lump meat

16

ounces

linguini pasta

cook according to package directions
Instructions
Alfredo sauce preparation
In a saucepan, melt butter.

When butter is melted, add the cream cheese. When the cream cheese is softened, add heavy cream and the Parmesan cheese.

Add garlic powder and stir well. Simmer for 15-20 minutes on low. You may wish to season with a little salt and pepper. 
Crab Leg preparation
Boil crab legs by filling a large stockpot half full of cold water. Add a tablespoon of salt to the water. Turn the temperature up to high, when the water comes to a boil, add the crab legs.

Once the crab legs are added reduce the temperature to medium, and simmer for six minutes. Remove the crab legs from the water. Use a cracker to remove the meat from the crab legs.
Recipe Tips for the Cook
Normally, cream cheese isn't used, but it does help thicken the sauce up without much difference to the taste. You can omit it–just be prepared to stay with the sauce a little longer to thicken it. Boil crab legs as you normally would in boiling water. Crack open legs, dab meat lightly with paper towel to remove excess water, and place the meats on top of the alfredo sauce and pasta.
Nutrition
Calories: 617kcal | Carbohydrates: 60g | Protein: 24g | Fat: 30g | Saturated Fat: 18g | Cholesterol: 99mg | Sodium: 571mg | Potassium: 372mg | Fiber: 2g | Sugar: 2g | Vitamin A: 925IU | Vitamin C: 3.4mg | Calcium: 273mg | Iron: 1.4mg